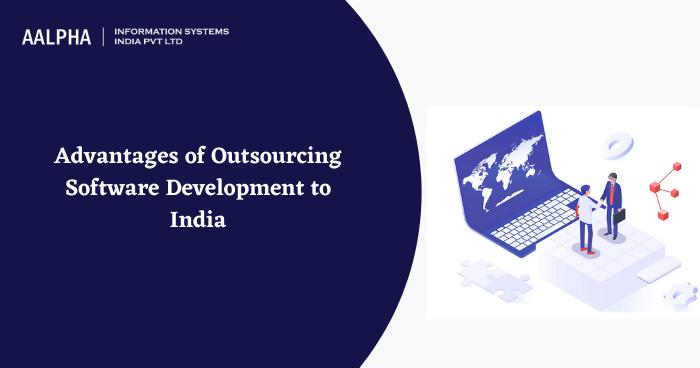 Outsourcing is an authorized process to earn maximum benefits in a hassle-free manner. In the area of Outsourcing Software Development services, India has moved forward as an amazing software development marketplace since the establishment of the global software boom.
Millennial India is becoming one of the most sought-after and profitable choices for outsourcing software development and technology support because of advancements in economic sectors such as GST and digital India movements.
Many international companies have outsourced their software development needs to India, making it possible for them to triumph. The decision to outsource their needs has made stronger their company and proved to be an economical one at the same time.
Some important benefits:
Cost-effective
The low rate in the total cost of the service to the business is one of the USPs of outsourcing goal-oriented from India. It could be expensive to keep software development or technical support teams from foreign countries or to have an in-house team. But outsourcing software development to India minimizes the overall costs without cutting down on corners and hence is economically feasible.
Improved quality
Since India is a hub for offshore businesses, the development teams are usually knowledgeable and have in-depth perceptions from previously collaborated projects with many other businesses.
Knowledge
It's not surprising to hear that India's most comprehensive IT talent accessibility makes it a top outsourcing country.
With more than 3 million talented graduates entering the workplace each year, India has become an IT paradise for companies searching for quality efficient talent to take on their IT duties.
In specific terms, IT outsourcing is a blessing for start-ups to prepare a working product in minimum time and sell it quickly.
Absolute IT Infrastructure
Another most important thing that makes India a highly IT-outsourcing-friendly country is the great availability of ISP, cellular networks, and the latest and trendy technologies in its major towns and cities.
Due to high-speed bandwidth through satellite connectivity, submarine cables, and fiber optic networks in India, there is never a hindrance in the communication channels pipeline.
Thus, enterprises can solely depend on Indian offshore teams to get the work done and keep them updated thoroughly through regular basis channels of communication.
Brand New Technologies
In the software industry, one abiding thing is transition. Innovations and ideas continue to reach the market from time to time, making it important to remain informed to satisfy ever-changing market needs.
One of the best factors that make Indian developers the most look after, is their willingness to change quickly to new technologies when stepping into the market.
Fast Delivery
Since the Indian IT industry has been considered a good listener, your idea is delivered perfectly to skilled experts. The team has a great understanding which allows you to get all your doubts cleared before signing the outsourcing consignment. And it is made sure that prototyping is involved in every stage of the project so as to make sure no mistake is does. All these things together make ensure faster delivery with less revision.
What could be more than starting with the project right away as expected in your plan? It not only keep you up with the timeline but also gives you time to accelerate and bind up with other things.
Communicating Language
English is the second language in India, although some might argue about this the fact remains that English is the first language for many individuals, especially those from the southern regions of the country.
Apart from this that Indian offshore teams hugely prioritize communication between stakeholders which makes them for better exchange of ideas between the outsourcers and the Indian development teams to ensure smooth workflow.
If you want to outsource the mobile app development, web application development, or any other software project to India. but are scared of how you can communicate effectively with the development team – then you need to believe that that India is the world's second-largest English-speaking country.
Approving Policies
India is a country that is politically and economically stabilized. The Indian government's policies are immensely supportive of the IT industry. it is considered by the Indian government to be one of the ranking priority industries, and all of its IT policies are highly satisfying to India's outsourcing. The government offers tax-related and other benefits to support the growth of the IT industry. Indian Information Technology Act recognizes electronic contracts, and the cyber law maintains cybercrime such that smooth services can be provided to global clients.
Conclusion
Businesses worldwide find India heaven for IT outsourcing with such remarkable advantages and talented developers. It has been more than two decades and India still at the top ranking of outsourcing companies in software development. it is very likely to hold its numerous role in the coming years.
Are you thinking to hire software developer? feel free to contact us…..