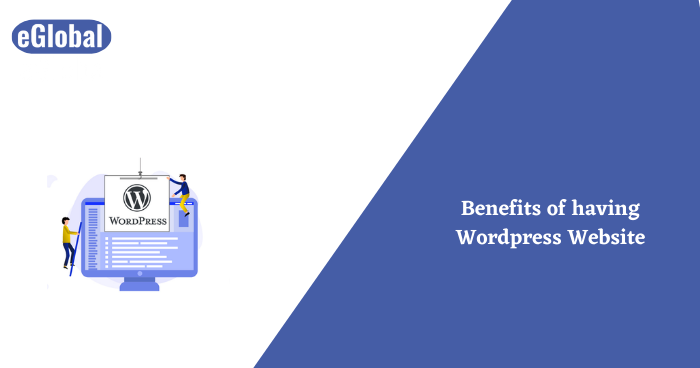 In this Article we are going to mainly focus on benefits of having WordPress website. Let's discuss here why WordPress is used? it's benefits and steps to create WordPress website.
Why WordPress is used?
WordPress is a content management system CMS, that manages the content that we post on the Internet. It allows you to arrive at the place of your required development in business and education. WordPress helps you to build websites out of your choice. WordPress has a system template to customize your website. It allows you to build websites for your blog, business, portfolio, and online stores. It gives a wide free range of many mobile templates, ready designs, and themes.
Benefits of developing WordPress website: 
WordPress is not only a blog development platform, it is much more than that. It has a full-featured content management system (CMS) that is no more just a website.
General blogs and small businesses run on the content that they prepare. The products that they see, the theme they are involved with, their perceptions of their product quantity, etc. All these are displayed only in content form. To do these professional words each time you hire a technical people to work on. 
But no more, WordPress allows you to build websites for businesses to your own need and wants, to are given the freedom to make your Design and template. This makes you more comfortable from your place to work on. Your rendering your complete care to your blog or business to grow. Self-work only can get you complete satisfaction.
Mark your benefits:
WordPress is free: WordPress is completely free. It charges nil for downloading, you can use it in a wide free time and documents. You can save and preview an attachment in WordPress free of cost. You can develop your blogs and admin theme free of charge. It gets you rid of the guilty feeling that you should pay for your documentation. Making the opportunity Fruitfully work for you. Develop your business with your words and design.
Design your snap:
Choosing the perfect design would be the toughest part of the content display. WordPress has many designs and themes for you to choose from. It gives a wide variety of different templates for the contents to be displayed. There are both free available themes and premium themes for less cost subscribing.
Most of the premium themes are professionally designed and are a built-in way to have additional capabilities like managing with your SEO or making it on your mobile devices as well as desktop computers. 
There are some free themes also that are good as the premium themes, but be careful of free themes that seem to be missing a few components or don't have a few of the bells and whistles that the premium themes have. It has designed a theme for a particular industry also. They serve as the easy click of design. Additionally, Boost user engagement by inserting quizzes in your WordPress website. Moreover, quizzes are a great way to generate leads. You can require to fill in email addresses before showing the results of the test. So after getting those emails, you can send newsletters and build connections with your website visitors. I recommend you use this free WordPress quiz plugin.
Fast and steady content ready:
It gives a very easy way of writing content. Just with clicks your page and theme are ready for your writing. Easy access, saves time. You can create a blog post with one mouse click.
You can easily create a new page, new blogs with easy access and free of cost. WordPress is not only limited with write and things s it has much more creative elements to look through.
Updates:
Updates are very frequently accessed. It is more easily accessible in case of new updates. Updates upgrade the comfortable of the user in terms of theme the privacy. It has well-locked privacy for your contents. Under the zone of privacy, there is no worry.
WordPress supports Embed enabled websites you can embed YouTube videos, Instagram photos, Tweets, and Sound cloud audio by just pasting the URL in the WordPress post editor. The different number of websites you can make with WordPress.
Start a Blog
Make a business website
Start an online store
Build a membership website
Sell online courses
There are 9 different types of websites you can make using WordPress.
Steps to Develop Website
Select your domain name.
Choose your web hosting service.
Install WordPress.
Choose your WordPress theme.
Install WordPress plugins.
Customize and publish your WordPress website.
To create your first website on WordPress to make cloud 9 successful.
1. Signup for WordPress.com
2. Activate Blog through email
3. Setup your blog
4. Connect Facebook or Twitter
5. Finish the Process
6. Visit your newly created Website
You are now ready to launch your new WordPress website. And most importantly, you do not need any prior website development experience. 
Are you planning to hire developer to develop website for your business? contact us today & get free Quotation.