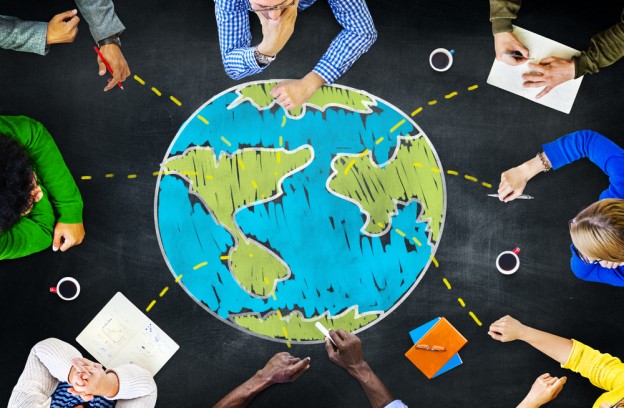 Offshore Development is like outsourcing, which can prove to be beneficial for both big and small companies. Companies nowadays are looking for ways to accelerated growth. One common characteristic of all such successful companies is that they got a Global Workforce and they are harnessing the power of skilled and talented people from all over the world. The dedicated developers in India have helped in bringing the Indian IT Industry to the top when it comes to offshore web development.
Companies like Google have found ways to take advantage of world economies and shift their work to the countries where the cost of doing business is lower as compared to the developed countries of the world. These companies also take advantage of Time Zone Differences by using it smartly to increase the working hours and getting the job done faster. Let's look at the benefits of having an offshore development company. So, let's look at all the benefits these companies are getting from such an arrangement.
1.    Elimination of Real Estate:
In leading corporate cities of the world, desk space and associated costs are a huge concern. When companies decide to hire onshore employees, the question that arises is that where they are going to sit? The price per square foot is a major factor and there is a time required to find this place, negotiate the legal terms, build out the premises etc.
Another thing here is that the company may not be comfortable taking on a long-term commitment. So, by setting up an offshore development office, you avoid the high rent costs associated with onshore offices, also you are not bound by any long-term agreements.
2.    Talented and Professional People:
Another major issue that companies face on their way towards growth is the lack of talented, highly skilled and professionally trained employees. Smart people are not confined to a specific region. They are born in all parts of the world and many of them pursue a University Degree in Computer Sciences and engineering. Computers use special machine level language and no matter how dispersed your workforce is they will all understand this computer language. The dedicated developers pool in India offers clients with a huge variety of options when it comes to hiring professionals.
3.    Time Zone Differences:
What appeared to be a problem is been converted to advantage by companies like Google. They have turned time zone differences into a strategic edge by creating a 24-hour development cycle. When you got developers working both onshore and offshore the development process continues even after one of the groups finishes their day. Development speed is greatly enhanced as the project is handed over from one team to the next one. There may be some additional coordination and management costs however results are outstanding.
4.    Easy Management:
You may be worried about how to manage people sitting and working in another part of the world. The key here is to make your overseas staff work for an organization that keeps an eye on their work and makes necessary reports for you. Hence it would be assured that everyone was there on time and worked for the full working hours.
5.    Responsiveness and Scalability:
As your requirements change you can easily change your workforce. You may be in need of more people with time or you might want to shrink your workforce, you can do this easily by just sending an email or making a phone call. You are not bothered by any space or infrastructure management issues or by any termination contracts.
6.    Hidden Costs are eliminated:
When you are provided with a team from an offshore provider in return of a price or fee, you eliminate all types of hidden costs. You may run into additional costs for the project is passing through different stages like Alpha, Beta, and Live. When you use an offshore development company this creates a scope creep which is eliminated if you use a software dedicated team.
7.    Culture:
By Outsourcing a whole development team, rather than a project team, you can make them a part of your Corporate Culture. They will wear the same logo and Moto as your in-house staff. They will understand your organizational goals and standards, resulting in better performance and product.
8.    No Human Resource Problems:
All the companies out there wish that human resource process is made a little easier. Imagine a situation where you just discuss with someone, about your requirements, the type of people you need, and they immediately get them for you.
They do all the work of posting jobs, shortlisting the candidates and providing you with a list to choose from. This is exactly what happens when you work with an offshore organization, also it would be easy to terminate someone that is not working according to your needs, without any termination's issues. You just pay the fees agreed upon and you are not managing any payroll or benefits as well.
9.    Control, Security and Confidentiality:
You should not be worried about confidentiality and security. You can set up a VPN (Virtual Private Network) or VDI (Virtual Desktop Access) so that only people with the required access and clearance can access the data. You can also install a monitoring system to keep an eye on the developers work without any notification to them.
10.    Continuity of Operations:
By hiring an offshore development team, you get a dedicated team that is just like your in-house staff. As the new work or projects come in you assign them to your staff both in-house and offshore. You manage this dedicated team just like you manage your in-house employees. You can have the same trust and faith in them just like the employees at your in-house office.
We have tried to briefly point out and discuss the prospects of having an Offshore Dedicated Developer Team specifically pointing out that they are just like your in-house staff and must be managed as such. These dedicated development teams in India also provide you with several cost and managerial benefits in the shape of easy management and no hidden or setup/termination costs. Hence allowing you to increase your productivity and profit while decreasing the associated costs and efforts.
If you are looking to setup offshore development center then eGlobal can help, we are a Bangalore based Software Development Company with 12 years of experience who can manage your ODC effectively and efficiently, contact us today.