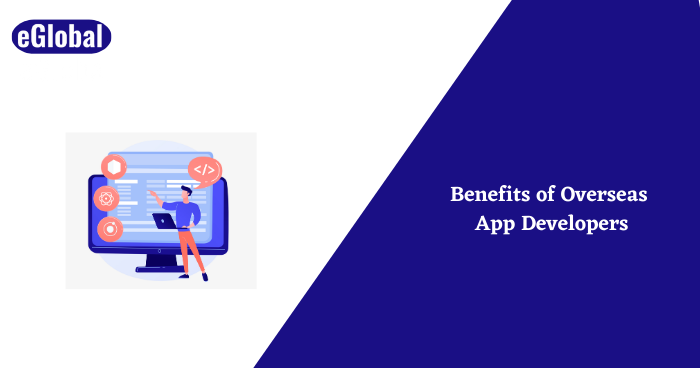 Ever since the internet started playing a major role in any business, app development is rising exponentially. Though finding a developer has become easier it is equally challenging to pick one from the long list of app developers from all over the globe.
However, some people still hesitate to hire app developers from different countries. There can be many reasons but studies state the two major reasons to be trust and communication which are not very prominent ones. If you are such a person, do scroll below to know what a lie you have been living.
Here is a list of benefits of hiring an overseas app developer:
1. You can save a lot of money
There are several ways where you can save a lot of money while hiring overseas developers or development companies. Firstly, you get a wide range of options to explore and negotiate with the development cost. Since the cost of living in various countries are different it influences the cost the developer charges. Application development costs at countries like Vietnam, China, and Poland are comparatively less than that of western countries.
2. You can save time
Once you have got the perfect app developer, and you are satisfied with their portfolio, reviews, and level of understanding, you are going to get the project done on or before time. Since they would take your requirement, understand, and work in a prototype method it will be easy for you to keep a track of work and you need not personally lead the whole team and end up being tired of dealing with multiple geniuses at a time.
3. You can have a pool of talents to pick
Exploring throughout the globe allows you to dig out all the talented people and list them down and choose the one who fits best to your requirement. You are no more limited to a small number of people with limited skills and you eventually end up making changes in your project as you do not get a person to deliver it. Choosing an overseas developer helps you find the most updated skilled expert at your budget.
4. You get to know the market much better
When you are looking for an app developer there are many other things that you get to know apart from your project requirement. You can know the rules and regulations of the respective countries' developers you will be working with. What are the techniques and work cultures the developers of the different countries follow? Another benefit is you learn new things which can help you in the growing of your business. Even if you do not work with all the overseas app developers you are building a friendship and a directory of skilled people you might require in the future.
5. You can Unload the stress of management
Working on an app development project is a very stressful job. It includes understanding the clints requirement or if it's your project, you need to create a plan book on your own. Once the plan is ready you have to look after the development team, testing team, marketing team which includes hiring and management. Once you outsource the project to an overseas developer it is their headache to hire anyone if required for your project and get the job done.
6. You can work and grow more effectively
As you do not have much stress about the development you can concentrate on the post-development process i.e. testing, marketing, updating, consistency, and feasibility of the app. Apart from that, you can focus on your current business to keep the flow of funds consistent. Meanwhile, you can plan to reach out to other experts and raise funds, lead generation, etc. You can also keep track of the overseas developers and look for other better solutions and alternatives required for the project.
7. Your team is growing
Once you are working with the overseas developers you are building a relationship apart from only work. When both you and the overseas developer are compatible in working together you can think of working together for the long term which eventually means you are adding to the team. It may also happen they bring you business or outsource work to you when they are overloaded and vice versa. One of the good parts of this collaboration is you both are growing globally together.
If you deeply study the above benefits you are surely going to take off the myth from your mind. Since there are several options to translate languages, communication with your overseas app developer becomes easier and you start building trust. Instead of hunting for the developer and getting the work done from the low-skilled developers at your place, it's better to find experts overseas and get the job done.
Are you planning to hire developer? contact us today & get free quotation.