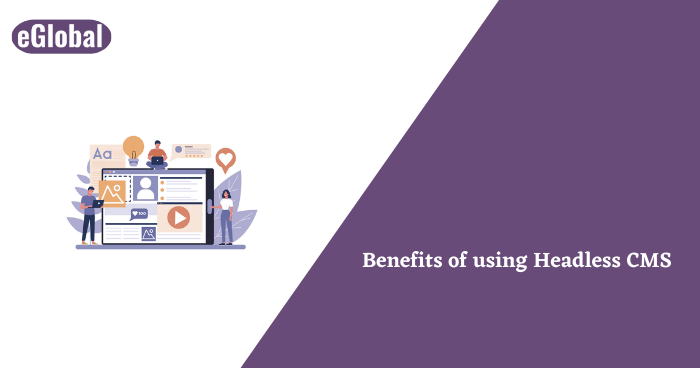 The methods and approaches we use have gone through various developmental stages and revolutions for a long time. For a few years, headless CMS has been a strong trend – and well-known talking point – in digital content management. Headless CMS is becoming increasingly popular, and customers' expectations of a personalized experience are also rising. Headless CMSs arose due to the changing challenges of the digital era. Specifically to meet a company's needs at all stages of the consumer journey.
It's time to decide; the advantages of using a headless CMS over a traditional CMS are obvious. So let's begin by discussing what headless CMS is, why it's used, and the benefits of using it.
What are Headless cms?
A headless CMS lacks frontend components, or a "head," that determine how content would be introduced to end-users. In contrast to a traditional CMS, a headless CMS is completely disassociated from the presentation layer/frontend. In this case, it is the "head," and the backend is your content repository, which is referred to as the "body." Rather than, the content could be published anywhere, across multiple channels, via an application program interface (API).
Benefits of Headless cms:
1. It is simpler, faster, and more adaptable 
Developers can develop in the manner they are accustomed to without being constrained by specialized development constraints. A headless CMS not only allows you to choose your programming language, but it is also API driven. A single piece of content can really be reused and blended with multiple presentation outputs, enabling work to be done more quickly. It allows for simple and secure integrations with your current systems. It thus includes using webhooks. A webhook is used to send an email to a user once they have been required to pay for a subscription on your website.
It will not only give developers appreciate the flexibility it provides them in terms of funding and resources, but it will also allow them to incorporate more complicated systems.
2. Outstanding Omnichannel Perspectives
As technology started to evolve away from desktop and mobile and toward new devices such as smartwatches, voice-activated devices, and others, New delivery layers had to be generated, making content uploads more difficult both for developers and marketers. One such traditional system is no longer adequate for providing a modern customer experience. However, going headless helps to avoid these issues. Because this content management is disentangled, business users can easily manage, post it online, and edit content and content pages without the involvement of developers.
It thus makes it easier to maintain brand consistency across the board. Because of the decoupling of content creation and content delivery, enterprises can create interactive experiences irrespective of the presentation layer. Productive omnichannel marketing can lead to increased customer satisfaction levels, which can lead to a rise in annual income.
3. Cost-Efficient
Headless CMS has fewer technical requirements. Because of this, business teams can develop new features more quickly. They could even start creating new product lines and pages without relying heavily on developers for templates. Instead, consumers can readily access CMS and begin creating mini-sites or pages as needed. As a result, the overall development costs are reduced. Users of headless CMS do not require large teams with specialized CMS resources. A few technical resources are required, but not as many as in traditional CMS.
4. Scalability
A headless CMS allows teams to focus on creating revenue through precious and interactive experiences rather than the time-consuming and costly process of constantly needing to upgrade systems from scratch. Headless CMSs are much more scalable than conventional CMSs. However, if the backend platform experiences performance issues or requires regular maintenance, the group will not have to deal with failures, leisure time, or performance issues while working on your website environments.
5. Heightened Security
Because the presentation layer is not linked to the database, subscribers may not have to be concerned about a layer's security problems concerning the other. Aside from that, security is high because CMS can only be used inside the organization. In contrast, the area of invasion is quite small due to the division of both layers. Thus, a further benefit of headless CMS over other CMS is security.
6. Concentrate on your business
Spending all of your time wondering about your CMS can distract you from expanding your business. A conventional CMS can eat up a lot of your valuable resources. Using a headless CMS is that you can concentrate on your business. Traditional CMS can divert your attention from growing your business and instead focus on managing content and websites.
You can provide a great customer experience across multiple touchpoints with headless while spending less money and time.
Conclusion:
The above advantages are not the only ones that will give a proper idea about headless cms; there are user-friendliness and simplicity, quicker deployment, multiple channel selling, pace optimization, and more. These benefits can be fully realized if you select the correct headless CMS.
The most important aspect to consider is how you would like to maintain your content, as this can affect the overall business. So, marketers, the time has come to grow and proceed further than traditional CMS. Hire developers India from leading web development company in India.