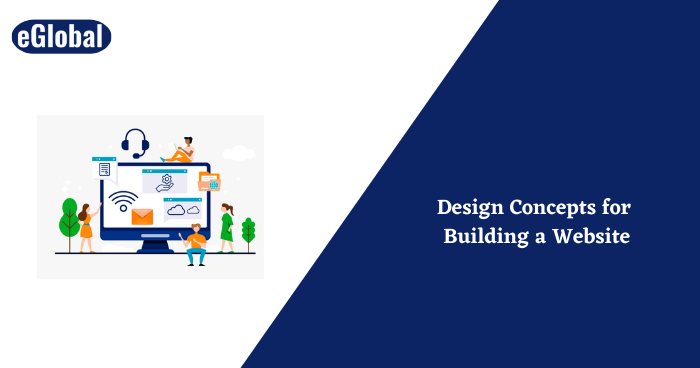 Website design concepts and important things to know:
We live in an internet age where we can reach out to anything we want with a few clicks. It allows people to communicate with one another, share their opinions, buy and sell products, etc. As individuals spend more time on the internet, businesses are beginning to see its value and are using it to propel their enterprises to new heights. To make this happen, a website is essential since it aids in the growth of a business online through the use of numerous marketing methods. 
Therefore, it is important to know everything about the designing of websites. Design concepts are the steppingstone. Let us start with it:
Concentrate on good design: 
If you understand what constitutes good design, you will undoubtedly implement the best for your targeted audience. It is a matter of personal preference when it comes to good design, and it also depends on your traffic at some point. At times one user likes the design, another may not. What makes your website a good website is how easy it is to navigate through your website, its visual style, good quality content, additional links, concise pages, and if you add unique graphics and colors to it, it will be the cherry on top.
Web page layout:
The layout is a crucial pillar of your web page; it can act as a design and is an important design element. So, how should it be? Create a layout grid and style for handling text and graphics, then stick to it to maintain a consistent rhythm and unity throughout your website's pages. Tables, nested tables, and lists, are evenly organized, and well-designed frames can be used to alter layouts. A webpage is a document, to put it simply. It's comparable to how you'd write a letter, an outline, a report, or a commercial. Remember that your visitors will be viewing it on a range of devices, including PCs, phones, and tablets of all sizes, so ensure your web design is device compatible.
Colors and fonts:
Color provides your web page meaning and appeals to the target audience. It's critical to understand the color scheme. It is consistent with the site's brand identity and may be found on every page and in other marketing materials. Remember that it should be pleasing to the sight and speaks about your work well. Fonts, on the other hand, play an important role. When choosing fonts, always consider how they will appear at lesser and macro scales.
Graphics and images:
Graphics and images offer your website a decent and formal style to make it more accessible to the public. Websites, graphics, and photos are all visual mediums that can talk about your page. It's essential to select the appropriate images.
For whom is the website?
When deciding to build a website, knowing the answer to this question is critical. For example, if you're creating a fashion website with teenagers as your target demographic, it should have some funky and trendy fashion appeal to keep the visitor engaged.
Structure of website:
The structure of the website is the next stage after establishing the target audience. You will need to create a site map, and you should begin with the home page—the next step is to create links to all of the other pages. Every page must be linked to the landing page to keep your audience engaged. Make sure you establish a contact page and be very clear with the information you're presenting.
Domain and Host:
The domain should say something about the website, and it's also important to choose a good brand name. A simple spelled brand name in the domain with SEO has a better chance of appearing on top of search engines. When it comes to the host, the nature of your website should be reflected.
Page load time:
The page's faster loading speed is a key factor in attracting visitors. As a result of the slow load time, users will abandon the site. Prior to the launch of your site, you must check for any loading issues. Use only one or two elements with a long load time and learn to compress your visuals properly.
Content:
Websites are similar to a blank piece of paper with a few words written on it, which looks amazing and has a clear message. Your website should also have something to pull and hold the audience for a longer period of time. Use well-designed unique content and powerful keywords to rank at the top of the search engine and clearly communicate your point.
A website is a tool that allows clients and customers to learn more about your company. Usually, customers expect the company details and  brief information must be available online which they consider to be original and authentic. Moreover, they get an opportunity to avail your products and services from anywhere anytime. It is crucial to comprehend the concepts and important elements all at once while the development, but the suggestions described above will undoubtedly assist you in this regard.
For web development solutions for your future projects hire best developers from leading web development company in India.