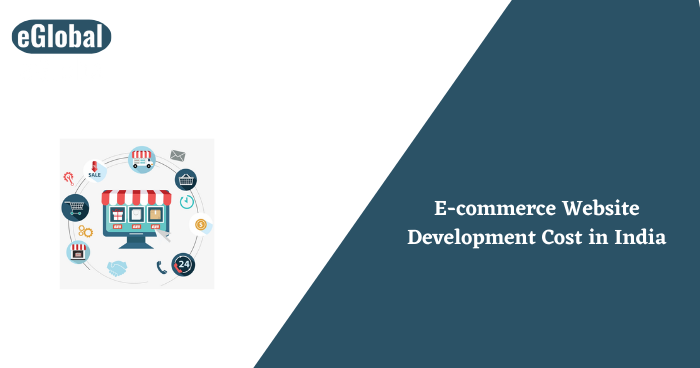 Introduction
Because developing an eCommerce portal entails numerous technicalities and complexities, determining the actual price of eCommerce web development is difficult for a layperson. This is where it becomes critical to comprehend all of the factors that go into calculating the price of creating an eCommerce site. So, let's delve a little further into this subject to determine the exact cost of an eCommerce website in India. One thing is certain: the cost of website development varies greatly. Please remember that introducing an eCommerce gateway is similar to starting a new business. It necessitates financial resources, strategic planning, and a committed team of professionals willing to go above and beyond.
Costs of Developing an Ecommerce Website
Design – You can choose between a set template and a custom design. The price differs significantly between them.
Functionality– Custom functionality components and distinctive program features will drive up the price.
Data Import – If you need product information or chronological order/customer data imported, your website development costs will go up. Ensure you have all of the data you'll need to run the website.
SEO – It goes without saying that investing in a complete digital marketing and eCommerce SEO strategy will raise the price of your eCommerce web development India.
Integrating a webpage with an ERP system or other 3rd system can be very expensive.
Website Development Company – If you hire experienced and well-known web page development services, you may have to pay more for the job.
The Cost of Ecommerce Website Development in India is Influenced by Several Factors
The primary objective of getting an eCommerce store is to advertise your products and services to customers over the internet. This eventually leads to an increase in sales and customers. This also aids in improving conversion rates. Database integration is required to provide your customers with a more immersive and insightful experience. This would be extremely beneficial to your eCommerce store's success.
The Price of Creating an Ecommerce Website
One of the most important factors in determining the cost of eCommerce development is web design. The majority of SaaS platforms come with templates and themes for eCommerce website development projects, which are typically customized to some extent to match the unique site. These platforms save time and money, but they come at a high price. The most basic design themes cost around $300, but placement and customization options can able to price at $2,000 per theme. A highly customized, extensive site being above part could cost up to $100,000. The design of your eCommerce portal must be captivating to entice and retain the audience.
Cost of Ecommerce Web Hosting
A web host is a type of Online hosting service that includes websites for customers, i.e., it provides the tools needed to build and maintain a website and makes it available on the Internet. Despite the fact that it is a back-end component, it is unquestionably one of the most determinants of the success of an eCommerce portal. The majority of SaaS platforms offer to host, though it may not be of high quality in terms of storage, traffic, or the number of requests, customers, or products. SaaS portals can be a great option in the beginning. Most business owners switch to dedicated hosting as their company grows.
The price of eCommerce product pictures and graphic design
The cost of visual elements for an eCommerce website ranges from $500 to $2,000 on average. Stock photography, as well as custom photographers and graphic design, can be quite costly. However, it is also truly the case that it is among the most important aspects of the development of an online eCommerce store. A visually appealing website is much more likely to attract visitors and keep them on the site long enough to convert them into customers. A fruitful eCommerce website also requires high-quality product images. It's possible that your distributor already has high-resolution product images. If not, hire an offshore designer to optimize the product images.
Training and Maintenance
Ignoring an eCommerce store's ongoing maintenance costs can be a costly mistake. Whether you're a newcomer or a seasoned pro, you'll need training and support. Prepare to spend anywhere between $500 and $1,200 on basic training, based on the complexity of your eCommerce site and the number of persons who will be trained. 
Conclusion
Building an eCommerce store is unquestionably a one-time cost, but managing and maintaining one adds a recurring budget for businesses that go online. Choosing an eCommerce platform, domain and hosting costs, features to be implemented, and design freedom are all factors to consider when determining realistic figures for an online store. Your budget will be higher the more providers you strive for various eCommerce services. An e-commerce platform can help you manage all of your eCommerce needs in one place, giving you everything you need to start and grow your online business.
Are you planning to develop an eCommerce website for your Business? hire Indian developers from top web development company in India your future projects! call now…..