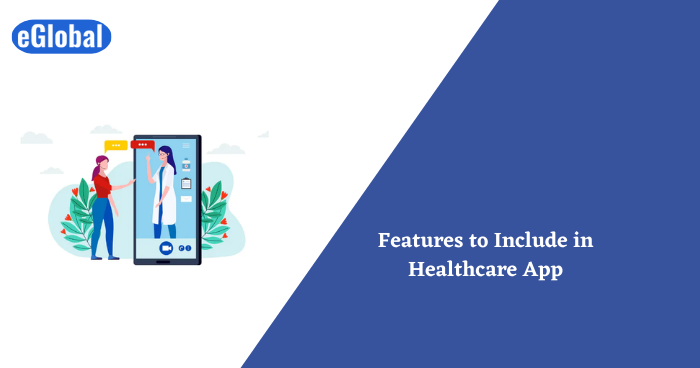 Introduction
The global healthcare apps market was valued at almost $25 billion in 2020. In the post-pandemic age, this market is only going to grow. Healthcare apps in use today range from patient monitoring and diagnostic test apps, to reminder apps for medicines and exercises and mental health apps.
Already, Google Play Store has over 50,000 healthcare apps. So, if you want your product to stand out, you'll definitely have to include some unique features. But at the same time, there's no point in trying to reinvent the wheel. There are some basic features that every successful healthcare app must possess, and you have to include them.
To learn more about the best features to include in a healthcare app, keep reading!
1)     Straightforward sign-up and sign-in
The first thing any user will need to do is sign up for it, so you need to ensure they can do so easily. The same goes for logging in, as this is something users will need to do regularly. At the same time, you need to have solid security controls around the log-in functionality. Identity and password threat is a real problem, and healthcare apps will naturally include the confidential medical data of patients. Two-factor authentication for logging in is a good way to ensure the security of your users' accounts.
2)    Search function for doctors and hospitals
One very common use of healthcare apps is to book appointments at doctors and hospitals. Before making an appointment with a doctor, a user will definitely want to look up the doctor's profile and background information. As such, the app will need to include a feature allowing users to look up doctor profiles.
You need to ensure that the information provided on the profiles is accurate; if fake doctors can scam people using your app, then your product's reputation will only suffer. Including a feature where users can give reviews is one way of ensuring that any fake profiles get quickly weeded out.
3)    Scheduling appointments
As mentioned above, scheduling of appointments and lab tests is one of the most common uses of healthcare apps. An appointment scheduling feature is simply a must for your healthcare app. While scheduling, patients should be able to input details like reason for appointment, past medical history etc. Similarly, when a patient is scheduling a particular test, the app should be able to display all relevant information about that. With certain blood tests, for example, the patients need to fast for a certain amount of time before giving blood. This information should be displayed while scheduling the test.
If you can tie-up with doctors and hospitals, including a feature where the patients can make online payments for their appointments and tests will also be very convenient for the users.
4. Video call feature for online consultations
Due to the restrictions imposed on physical meetings during the pandemic, telemedicine became massively prevalent. It is still going strong today, as both doctors and patients have released how convenient online consultations are. A video call feature to allow doctors and patients to hold these online consultations is hence a must. The video calls should be secure and encrypted, as confidentiality is a must for doctor-patient consultations. You can also have a feature where doctors can access medical records that patients have uploaded. Doctors should be able to send prescriptions in a secure, online manner to patients.
Apart from video conferencing, encrypted text messaging features to allow doctors and patients to communicate are a good choice.
5)    Integration with medical technology
Medical devices and trackers that are worn by the patient, or even implanted within their body, are becoming quite common. Examples of such devices are heart rate trackers, fitness trackers, pacemakers etc. Your healthcare app should be able to integrate with these various devices. Patients should be able to view the data collected by all their trackers and other devices on a single platform, namely, your healthcare app.
Doctors should be able to view this information also, as only then can they make informed decisions about the patient's healthcare.
6. Health awareness and information
Chronic illnesses, and illnesses caused by lifestyle issues, are a major killer today. Lots of people don't even know that they can deal with a lot of their healthcare problems by making some simple changes to their lifestyle. Small alterations to your diet, exercise routines, habits at work etc. can have a major beneficial effect on your body. If users can easily access information about diets, home remedies, ergonomic work practices etc. on your app, it'll allow them to easily resolve many of their problems.
Conclusion
As the old saying goes, health is wealth. With the booming market for healthcare apps, this is particularly true for healthcare app developers! But to ensure that your app is a success, you need to include not only unique features, but the tried-and-tested features that patients know and love.
Before you get started with coding, you have to decide the niche in the healthcare market you want to fill. Then, you can include features accordingly. We hope you found this guide to the features to include in healthcare apps useful!
Hope this Article is informative & beneficial for our readers, hire app developers India from leading custom app development company India for your future projects.