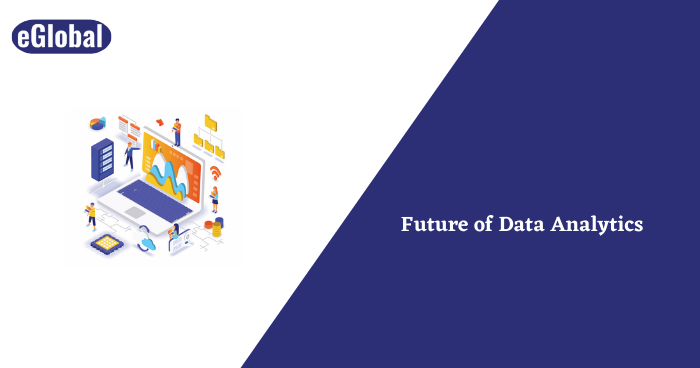 In 2022, you must have often come across the term "data analytics". It is one of the trending words right now. Companies all around the world produce a large amount of data every day in different forms. Apart from that, social media websites also produce a large amount of data.  Companies need this data to make a lot of their business choices. Data analytics comes into play here.
WHAT IS DATA ANALYTICS?
Data Analytics is the way of analyzing a large amount of data to figure out a pattern, and connection and make business decisions according to that. It improves the performance of your business. There are a lot of tools used by companies to carry out this job.
WHAT DOES IT HOLD FOR THE FUTURE?
It is quite certain that the future of the world lies in data. It will only grow more with time too. A lot of companies are relying on data analytics for their business. Here are some things you can expect in the future for your business:
There will be less number of specialists:
As we can see, there already is a shortage of qualified people in the field of data analytics in the market today. This situation may get worse in the future. Therefore, you must start planning on working on this issue from now. Create programs to fund qualified people and also create ways to keep up with the market.
More and more adoption by users:
Analytics is set to focus on utility and more natural language that enables business customers to extract data and create solutions. Tons of consumer data can add to the existing base to bridge the gap and provide a more personal touch to the business clients.
There will be growth in machine learning:
Machine learning creates a lot of options and it will help companies to create new types of services. Experts say that machine learning will acquire service roles very soon.
Easy handling of company data:
With the help of data analytics, managing data and ensuring its precision is very important. Figuring out the use of the data is very important as companies rely on them heavily to operate their businesses. Apart from that, there are also security and privacy issues. The public is quite unsure about the misuse of their data too. Companies must make a good plan to work on these problems.
Interconnectivity is important:
With a lot of businesses counting on internal tools for analyzing data, it is important to build a detailed data analytics machine for your business. To keep up with the market in the future, businesses must create plans to get talents and plan well for all investments.
Heavy reliance on mass data networks:
Data stores with a large depository are quite important for companies. A lot of customers can add to the present customer data to bridge the gap and will let them get custom services according to their needs and wants.
FUTURE TRENDS
Apart from evolving business, the concept of data analytics itself is set to evolve in the future as well:
More and more cloud-native start-ups:
 More than ever, businesses are set to shift to the cloud for better performance. A lot of companies have already shifted to the cloud, and more are set to join in. That is because the cloud helps in improving the agility of the business.
Automated Analytics:
Another important thing set to happen is that there will be the automation of data analytics. One can use it for a lot of tasks such as preparing, maintaining, and exploring data.
Real-Time Data Visualization:
Nowadays, businesses are running at a fast pace and producing a lot of data. It is, therefore, crucial to properly manage those data which companies can use later to get insights. Visualization comes into play in this. It works on the operations and takes control of the total business.
DaaS will become the next big thing:
DaaS or Data-as-a-service will become quite famous for data management and storage. This will help businesses with managing their work as well as the overall affairs.
DataOps will be famous:
 Basic jobs like storing, interpreting, and DataOps can easily work on analyzing big data. It eases the whole process of storing big data.
Data is the new fuel. A lot of businesses are taking up data analytics to keep up with the changing market. It not only helps them stay ahead of the curve but also helps them to manage their tasks easily. To keep up with the market trends of 2022, you must pay attention to changes relating to data and use them in your company. In the end, success is what matters in your business.
Hope this Article is informative & useful for our readers! hire best developers from leading web development company India for your future projects.
Also check: Highest Paying Jobs