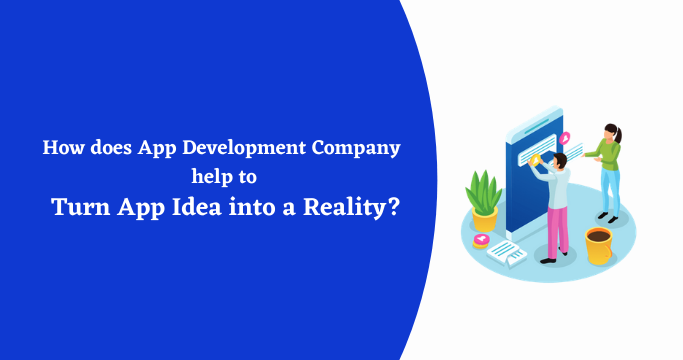 Do you want to make your dream app or turn your app idea into reality? If yes then an app development agency is the best way to start with as they know what to do with an app idea. As an entrepreneur, startup, or individual, if you want to connect customers with your business. Mobile apps are a great choice, as they offer a better user experience which ultimately raises your sales and revenue.
App development companies know how they can get help from your ideas to design your desired app.
The following steps are taken by app development companies in turning your app idea into reality.
Discussion on ideas 
App development agencies discuss your ideas with you about your ideas. Whether your idea is practical. With a continuous discussion, there comes a point where you and the app development agency have a clear vision of how to turn your ideas into reality. Then the app development company prepares a plan. Everything you discussed will now shape into an organized system. This plan contains unique features which are very important for your product's success.
Analyze the market
After making a plan now you have to analyze the market properly. As the idea isn't only to give you success, you have to understand that other factors such as trends, competition, and market needs will also affect your app. App development agencies take all factors into consideration and also look for apps that apply similar ideas. After that, store information related to rating, weakness, and feedback. so that in the future you don't need to face the threats.
After all this research, the app development company will update your plan by adding those useful factors which help your app to get success and grab attention. 
Understand who will be your target audience
You have to understand your mobile app user first. Their region, age, income group, industry, and so on. After knowing the customer base, the app development agency understands their desires. As an app development company knows the better you know what your audience needs, the better app you can design with all the desirable features. So it's not only the sole app idea that makes your mobile app successful but the whole factors that affect your app will be taken into consideration. to know their dislikes and likes, focus group studies will be done. The success of  Your product ultimately depends upon your audience, and from the focus study, app development companies will get some useful points that will increase the chances of product success.
Use money-making trick
App development agencies know how money-making tricks strengthen your mobile app., you can make money from your app in the following ways:
Subscription fee
Inside links
In-app purchase
In-app adds
User time
User data
Sponsorship
A paid app is very trendy nowadays and to make your paid tricks successful app development companies analyze your app users, market and competitors. To enhance the user experience these days in-app ads are getting unworthy.
Prepare a wireframe
To define the concept in a better way, agencies prepare wireframes for your app. And, it will also help your app to clarify the needs of your product. Firstly the designers will draw a rough sketch of your app on paper and after that use online tools to organize wireframes. After preparing wireframes, now it's easy to polish your app idea into a mobile app the perfect combination of well-prepared wireframes and top features will give excellent specifications to develop your app.
Finishes the UI/UX task
After creating the best wireframes, the next step is to complete your UI/UX task. UI/UX design makes your screen functionality effective and the app flows better. Now you are in a position to add and remove unwanted features. When you have completed the wireframes, you need to create a mobile app visual design.
Visual design will give shape, theme, color, and fonts to your dream app. This step will take you closer to reaching your dream app come true in reality.
It's time for app building and testing 
Now an app development agency builds your planned app. The quality standards are taken into consideration while building. it will assist the app developers in monitoring cost, time quality and other changes your app might need. After building the next thing is testing. Testing will detect the errors if any in your app.  
Launch and promote your app 
After the completion of your app, launch it on the google play store and iTunes app store. Make sure you promote your app with the marketing practices that help your app to reach target customers. Well, don't worry about this as app development companies know the marketing practices and help you to get your target audience. It is always recommended to use social media like Twitter, Facebook, and Instagram. These ways are proven to be very successful for product awareness.
Welcome feedbacks and keep improving
 Having launched or marketing will give you feedback, market demand, and response. All these responses will help you to reach the next level by improving your app on a continuous basis. Reading users' feedback as genuine feedback helps you to achieve your goal.
Now you have the idea of how an app development company can help you in turning your ideas into reality that will reward you. An idea is just an idea if you don't know how to start. So to jumpstart a profitable venture share your idea with an app development company and build your dream app in reality. 
For more information feel free to contact us today!