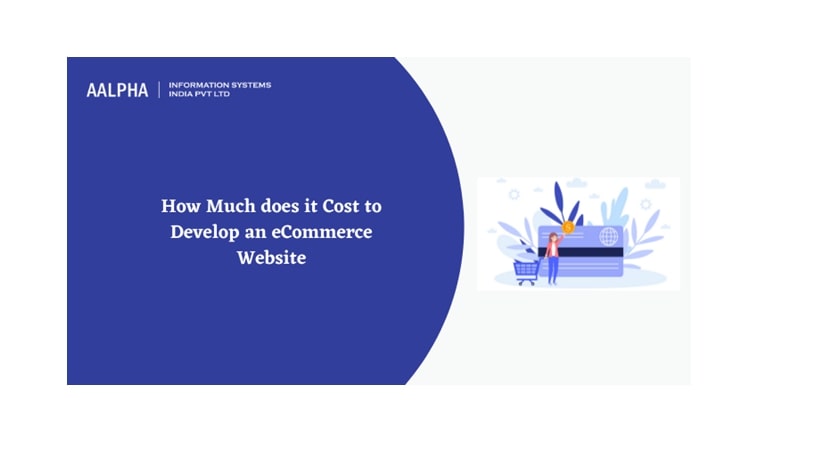 A website is a part of the company's profile. Today, if anyone wants to know anything, they just google it. So, now an e-commerce website is a must-have so that everyone knows about you and your products/ services. It's more like a digital face of your business like what you have as an office or shop in real.
Now that you have planned to build an e-commerce website, let's just dive into the expenses you have to make to develop your website in India. Since, there are multiple website developers, domain and hosting service providers, optimization service providers, etc. it becomes a bit challenging to choose who is going to be the best for you. We have listed down some of the standard prices in India to make your website building easy.
What's the cost?
The cost to develop an e-commerce website is not all-in-one everywhere. It differs from company to company and what package you move ahead with.
Since, E-commerce websites are complex in designing, developing, and maintenance, they need to be updated frequently, as new products keep launching and the service charges are variable. There are various aspects to a website that has their own cost.
1)Domain
For an e-commerce website, the first step is to purchase a domain name. You can get a domain name from domain registrars like Google, Hostgator, BlueHost, GoDaddy, and many more. These registrars will help you find a domain name and you can customize it accordingly.
There are some registrars which do offer some services like
● Hosting
● Database
● Dashboard for DNS
Check what features they provide you with and select wisely what you want. The domain can cost between $10 to $15 per year.
2)Hosting
To host your e-commerce website you definitely need a server. The cost depends on what package you choose whether you go for dedicated or shared hosting space, this cost does impact your website making cost.
If your service provider offers you special discounts or discounts for annual payment then you should go for it. If you go for a shared hosting environment it would cost nearly $60 to $100. You can opt for VPS for hosting depending on server and configuration. VPS would cost anywhere between $500 to $1000 per annum. Hosting on a dedicated space would cost the highest nearly $1200 to $1500.
3)Design
The website design should be given to a web designer as it will be looked at by everyone globally. Free templates are available but don't make much sense as they have hidden limitations. You can't make a lot of changes anytime it requires support that is not available.
A freelance website designer with a single site and license can cost you $200 to $350.
You can even go with a professional company or startup exclusive of all services for $2000 to $3000 it may also vary.
4)Content
Content for an e-commerce website is write-ups, images, videos, and much more. All these should be at the right point as it is a crucial aspect of the website. A variety of formats are available for content; the cost will depend on what you demand and how much. Some content can be complex too.
The desired content should be on time and uploaded and updated whenever needed. Marketing should also be at the same pace. Digital marketing and SEO factors on websites will help to rank higher. The content cost will vary a lot as it has different sections. Copyright infringement content would go for Rs.3000 per page.
5)Content Management system (CMS)
The content management system should be customized according to the requirements of the business. It's easy to update the website anytime as new products keep launching every now and then on an e-commerce website. Free services are provided by Magento, Drupal, WordPress, Joomla, and many more but these do limit your website management in many ways.
If you have a desired purpose that only customized service can fulfill and no one else. It would cost somewhere between $1500 to $3000. It wouldn't necessarily cost you $5000 it is based on your customization.
6)Search Engine Optimization (SEO)
For an e-commerce website, SEO is vital. SEO will increase your ranking on Google which is strongly appreciated. It will help when an individual searches for a product and your website is the first one on the list.
SEO services have different packages either you go for the on-site or off-site SEO or a mix of these two, you need to ask your SEO company for the plans it provides. SEO needs time to showcase its results at least five to six months. Cost annually goes up to $2500 to $4000 or even more.
7)Responsive web pages
Customer experience on a website is what we need to cherish. That should be one of the targets. Their experience is a gateway to know if they will visit more often to buy your products. The website should be friendly to all devices opened on.
Google ranks responsive websites higher; it's a factor to consider. Making a website in such a way needs CSS. Incorporation of the framework like bootstrap and flex is the costing factor. If pages on the website are five or ten additional costs can be near to $200 or $300 per page.
As a beginner's guide these features are really important for an e-commerce website. Websites are also an investment for any business today so think about how you invest your money. Try to increase your visibility by updating websites regularly as it will make you differ from your competitors.