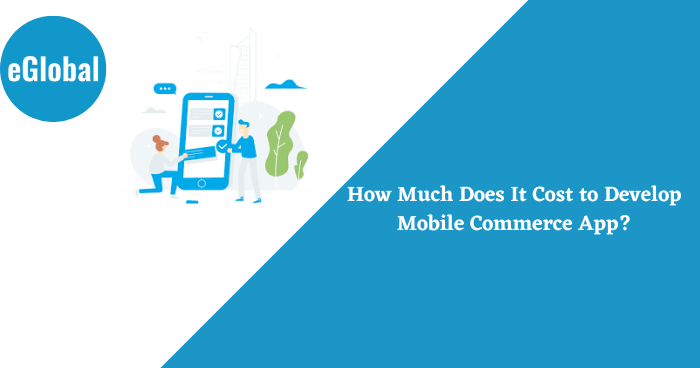 If you are looking to build a mobile commerce app and take on the vast market opportunity eCommerce is offering through mobile apps, there is no better time than to do it now.  
Mobile commerce apps dominate the E-commerce landscape globally, and if you do it right, there will be no dearth of opportunities to turn your app into a money-making machine. AP News says mobile commerce apps have more than 600 million users. The same report also suggests that by 2025 the mobile commerce market will likely cross $243 trillion.
A successful app project, especially that of a complex category like mobile commerce, needs huge amounts of money, and there are no two ways. How to make a budget for a mobile commerce app? For e-commerce, does the mobile app development cost? We will analyze the cost factors to give you some ideas here. 
Choice of Features is a Major Cost Factor
For any app project, the choice of features impacts the mobile app development cost to a great extent. For your mobile commerce app also, you need to choose the essential elements first and then decide on advanced features. Let's get some ideas about choosing app features. 
●      User Registration or login
For most apps, users are required to register to use the app. You can allow guest login and users to log in using their email or social media credentials. 
●      Customer onboarding 
A customer onboarding page or short over-the-screen guidance is good to make users acquainted with the app quickly. 
●      Filter-rich search function 
App's search function should allow users to use different search terms and filters to find what they want. 
●      Push Notification
This is an essential feature to give users alerts, send offers, and inform them about promotions from time to time. 
●      Product page
The product page or product catalog is where all the actions happen for business conversion. A good product page design is crucial. 
●      Reviews and ratings
Mobile commerce apps must allow users to post product reviews and rate the products for others to see and evaluate before making purchases.
●      Different payment processing options 
A mobile commerce app must offer various payment processing options to allow efficient and quick payments. 
●      Shopping Cart
The app should allow customers to put products of their choice in a cart they will purchase. 
●      Order details and delivery tracking
Finally, when app users place their orders, the app should inform them about the order summary and delivery status and allow tracking of their delivery.
Let's be honest that the above features are only basic, and several advanced ones need further investment. For example, you can integrate chatbot support for improved customer experience and allow them to schedule their delivery. Some apps also allow customers to use GPS locations for order tracking or fulfilling the address fields. Even basic features such as search filters, when developed extensively, can increase the cost substantially. 
The Chosen App Development Platform 
It would help if you were precise when opting for an OS platform such as iOS, Android, or both. When you build one app for multiple platforms and devices, the cost can be lower, but in any case, the choice of OS platform will impact the development cost. You can also choose AI in eCommerce for reducing your mobile commerce app development cost.
You also need to decide on the platform based on the dominance of an OS in your target audience market. On the other hand, development time will rise with the choice of multiple platforms. If you go for native development, it is always better to opt for one platform at a time instead of building for two platforms simultaneously. 
Third-Party Integrations
Another crucial cost factor in Ecommerce app development projects is third-party integration. For a feature-rich app with a superior shopping experience, you need many API integrations, which will incur more development time and cost. 
Social media integrations are standard, but when you need chatbot integration or integration of third-party analytics services or a robust CRM tool, the cost will go up. To make things easier, you can start simple and gradually develop more features. 
App UI/UX Design 
The UI/UX design of the app is equally important, just like the features and functionalities of the app, particularly for mobile commerce apps. A mobile commerce app needs a stunning interface, splash screen, eye-catchy banners, intuitive visual effects, and many more on the design front. So always be prepared to spend a good amount of money on the UI/UX design of the app. 
When you build a hybrid mobile commerce app, the development cost can be minimal as you are making one app for all platforms, and the core design and development costs for all platforms will be the same. 
Hiring and Engagement Models 
Last but not the minor impactful factor for mobile commerce app cost is the chosen hiring and engagement model. Here are some hiring and engagement models to consider. 
●      On-site Model
Hire app developers from a company just sitting on your premises and using your infrastructure to build an app offers more control but still can save cost compared to hiring in-house developers. 
●      Off-site Model
It simply allows an app development team from the hired company to build the app using their infrastructure and premises. This can still be cost-competitive based on your research and typical project requirements.
●      Hybrid Model
With the hybrid model, you get a mix of off-site and on-site models, and developers can use their infrastructure, visit your office, and work from there as the situation demands. 
Over to You 
So, now that you know the critical cost factors, you plan your mobile e-commerce app project budget accordingly. It is always good to embrace the MVP approach so that you can have some basic features in the initial release and spend less so that you can gradually introduce more features with the subsequent updates. 
Also read: Flutter App Development Cost