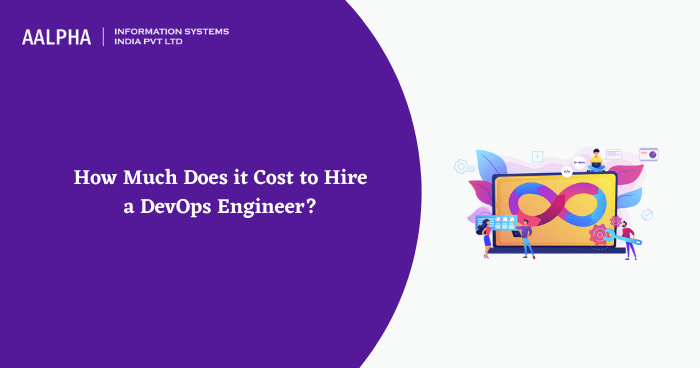 You must have gone through the neck and pain phase while hiring a professional DevOps engineer as there are always some obstructions that come across while hiring the desired developers; maybe because they aren't either that qualified or might the cost of hiring a DevOps engineer makes you drive crazy.
You still struggle to figure out how companies launch projects over the project while you are still fighting to meet a single milestone by holding several developers. Before you hire a DevOps engineer you must learn about the characteristics and responsibilities of a DevOps.
Who is a DevOps?
A DevOps engineer inaugurates processes, tools, and methodologies to balance needs throughout the software development life cycle, from coding and deployment to maintenance and updates.
DevOps is all about the unification and of process mechanization, and DevOps engineers are instrumental in combining code, application maintenance, and application management. All of these tasks depend upon understanding not only the life cycles of the development but the operation cultures, practices, tools and philosophies.
The DevOps Engineer is truly a rejuvenation person of cloud infrastructure IT services. Often the role is tough to understand because the DevOps Engineer is the product of a multidimensional workforce is that has not yet finished evolving.
Development vs Operation
Development teams and IT operations teams can have variable skills and different goals. Developers want to initiate new features to an application, while operations teams want to conserve the stability of an application once it is released.
RESPONSIBILITIES OF A DEVOPS ENGINEER
A DevOps engineer works with diverse teams and departments to create and implement software systems. People who work in DevOps have experienced IT professionals who is able to assure the quality, performance, development of the project along with staff management to deliver the best output.
Multitasking, demonstration flexibility, and dealing with many different situations at a time should be easily done by a DevOps engineer. Specifically, a DevOps engineer's responsibilities include:
Documentation: Writing specifications and documentation for the benefit of server-side features.
Systems analysis: Analysing the technology in trend being used and that develops plans and processes for development and further expansion. Support for urgent analytic needs is provided by the DevOps engineer.
Development: Developing codes, builds, installs, configures, and maintains IT solutions.
Project planning: Participation in project planning meetings to share their knowledge of system options, risk, impact, and costs vs. benefits. DevOps engineers communicate operational requirements and development forecasts in addition.
Testing: Testing code, processes, and deployments for identifying ways to streamline and decrease errors.
Deployment: Using configuration management software for automatically deploying updates and fixing them into the production environment.
Maintenance and troubleshooting: Performing routine application maintenance for ensuring that the production environment runs smoothly. It develops maintenance requirements and procedures.
Performance management: Recommending performance enhancements by performing gap analysis, identifying alternative solutions, and assisting with modifications.
Management: Depending upon how large is the size of the organization, the DevOps engineer may also act as a leader and will be responsible for managing a team of DevOps engineers.
Once you know wall about a DevOps engineer it becomes easier to estimate how much they should be paid.
Cost to Hire a DevOps Engineer
The factual cost of hiring a DevOps engineer primarily depends on the location you are thinking to hire one. Considering primarily the countries of Asia like; India, China, the Philippines, and more are renowned to be the top outsourcing destination. India is mainly treated as the only outsourcing destination in that.
So, the average cost for hiring a DevOps engineer in India varies from $15-$30 per hour wherein in the USA and the UK the cost for hiring a DevOps engineer differs from $50-$75. As far as relying on several factors such as country living standards, standards of organization, and more. 
DevOps COST IN INDIA AFFECTING FACTORS
The main factors affecting the hiring cost of DevOps engineers in India are mentioned below-
COMPANY– The company that is hiring a DevOps, will have a direct impact on the cost of your hiring.
LOCATION-In the upcoming year's location is all set to be playing a narrow role in the cost of hiring a DevOps engineer.
EXPERIENCE-The more experienced the engineer is, the better he/she can provide quick solutions and understand the roadblocks for bugs. A combination of experience and enthusiast DevOps will have a higher cost to hire.
SKILL-The better is he/she has the ability to understand the situations, the more skilled they are, so skill keeps the most important position before deciding the cost of hiring a DevOps engineer.
RANGE OF COSTS FOR HIRING DEVOPS IN INDIA
In the last few years, from being just a buzzword, DevOps have evolved in the IT world to a mainstream practice. According to the statist, as more and more organizations are embracing DevOps, there has been a 17% increase in 2018 from only 10% in 2017.
Furthermore in 2019 state of DevOps report by puppet lab shows a positive trend in the global adoption of DevOps. Because of this cause, companies are not shying away from offering increased DevOps costs in India.
HIRING COST OF DEVOPS IN INDIA
Since experience plays an important role, you first need to figure out your requirement. If the project has a low budget, and fewer difficulties a fresher or moderate lever engineer can be the best fit. However, it may vary on several factors as mentioned above.
FRESHER LEVEL HIRING COST IN INDIA
The average fresher level hiring cost of a DevOps engineer in India is $35.000.
MODERATE LEVEL HIRING COST IN INDIA
The average moderate level hiring cost of a DevOps engineer is $50.000.
ADVANCED LEVEL HIRING COST IN INDIA
 The average advanced level hiring cost of a DevOps engineer in India is $75.000.
So this was the average nutshell for the cost of hiring an individual for a DevOps engineering background. These factors may vary in some cases as your list of requirements and budget also plays a role while hiring a DevOps Engineer.
Are you wishing to Hire DevOps Engineer! Contact us….