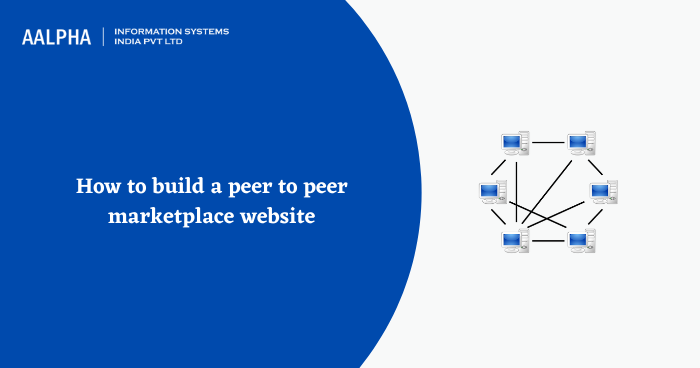 What is peer to peer?
A platform where both buyer and seller are customers. Let's take an example of olx, people use it to sell their old or useless kinds of stuff. On the other hand, a few people use it to purchase those stuff. The first category of people is the sellers and the latter is the buyers. But both of these are the consumers of the olx company.
Peer to peer is often defined as, "a platform that connects people who need a product or service to the people providing or renting it.
What distinguishes it from normal online business is that the products on sale do not belong to the business. A peer-to-peer economy is seen as an alternative to the usual capitalism.
Advantages of building a peer to peer marketplace
Accessibility- you can access these services from across the globe. Order anything from anywhere and there are 90% chances that it will be delivered to your doorstep. 
Financial profit- such a platform allows you to generate profit with very minimal effort. There is no need for you to set up any shop or worry about delivery and shipping. All you need to do is provide an interface to these buyers and sellers. Further proceeding will be taken care by them.
Easy development- even if you are not a tech-savvy person, you can still hire an IT team. They will develop a full-fledged customized peer-to-peer marketplace website for you. 
Hassle-free maintenance- launching and maintaining an online marketplace is far easier than an online one. 
Easy to use- the interfaces of such websites are easily understood by normal people. Hence ordering products or services from these websites becomes easier.
Why to create a peer to peer marketplace website
It is important to develop a website that has a unique interface. This is possible only if you start making a website from scratch. Making a unique and simple interface attracts users. It also shows that you have invested extra effort in building it.
Essential features for every peer to the peer marketplace platform
There are a few features that must be considered for every marketplace website, they are listed below.
Sign up with social media platforms.
Sign up or register using one's email or contact number.
Option for comparing items.
Complete information of vendors.
Different payment methods.
Data privacy and protection.
Proper customer care service.
Simple interface and usage.
Live support.
How to build a marketplace for such a website
To develop a profitable peer-to-peer marketplace you need to select the most efficient niche and monetization model. The most popular niche is food delivery. Also, the competition in this niche is comparatively less. The interface should also be user-friendly so that it might not scare the users. 
Initially, you can charge sellers for adding items to your website. You need to be very careful about all fraudulent schemes. This means that many times the sellers sell their products directly to the customer via messages and calls so as to avoid paying you your deserved fees. Think of the best way to avoid it in order to build a safe business from the start.
Building a website is one thing but monetizing it with the best monetization model is also very important. You can choose the following ways to monetize your platform
Advertising your platform via banners and popup ads- electronic advertisements are the most popular advertisements these days. Banners and holdings are also cheap but effective methods of advertisements. Mobile popup ads are also popular but not very effective since they irritate users.
Ad-free subscription – provides a subscription feature. Purchasing which the user would not have to watch useless ads. Give them some discounts and special offers. This will keep them glued to your website.
Memberships- offer memberships like Big Bazar. Buyers love the exclusive offers that are limited to only a few customers.
Premium and exclusive offers- give them offers for a limited time. This will make them buy products before the time the offer expires.
Providing beta features to limited users- beta users are the ones who are able to use the updated features before it is launched. The basic concept of the beta feature is to test these features before officially launching them and also to please their users.
Conclusion
Today, building a peer-to-peer marketplace website is easier than ever before. IT world is growing exponentially every day and to get your work done at minimal cost is no big deal. Maintenance and security would definitely take a lot of effort but the outcomes are often worth it. Be committed to your goals and always listen and work to your user's complaints. Keep improving, upgrading, innovating and hustling to achieve the targets.
Are you wishing to Hire developer for your Business? Contact us….