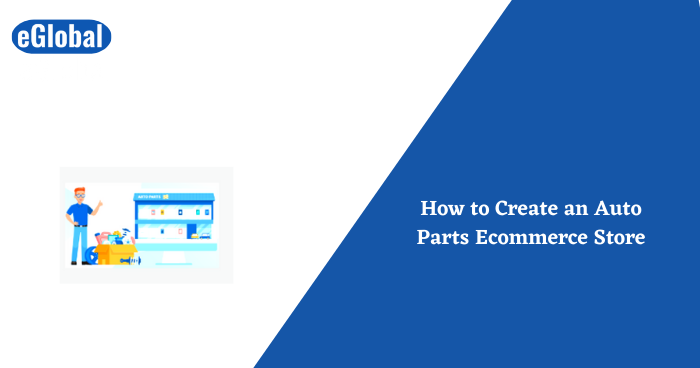 Did you know, Setting up an online store has helped every business gain 20% of hype in their sale and has reduced the marketing expenses? Well, the competition is also raising high with this. Online store for selling auto parts has less competition when compared to other products. So, if you are planning to take your auto parts store online, this is high time to start. 
Here we have the listed down things you must know to develop an online store for selling auto parts.
Step 1: Know the trend before you start:
Before your start knowing the trend is very important to plan your online business model.
1. Distributor's consolidation
Distributors under one shade is what the sellers prefer now to make the customer's buying experience easier.
2. Manufactures at the forefront
Now, Manufacturers are down in the market to sell directly to the customer to cut down the cost.
3. Digitization
Online stores are at a boom now, to reach out to customers globally.
4. Data accessibility
Customers can not access the auto parts through their Car themselves. They are now the smart buys and choose to buy parts on their own instead of relying on the technician.
5. Product Transparency
Sellers are setting common product prices to keep the deal simple for the customers.
Check: Functional Requirements For Ecommerce Websites
Step 2: Plan for your auto parts online store
1. Pick a Niche
You might have an offline store with a variety of auto parts, but when you go online you need to set your store with the niche of parts you sell to keep it simple. There are 3 major niches:
2. OEM (Original Equipment Manufacturer)
This type of seller is one who manufactures auto parts for their use. So, you can be a manufacturer selling some specific brand's auto parts that can be purchased by the people manufacturing the machines of the same brand. Hence, you are a brand here your store model would mostly work on B2B for your subsidies.
3. OES (Original Equipment Supplier)
Big companies hire multiple manufacturing vendors for their projects but pick one for installation. Now, the rest of the auto parts can be sold out. You can be the brand selling out auto parts with the same brand name but not the one you use yourself. Hence, you become a retailer and your store model would work on B2B.
4. Aftermarket parts
These types of sellers are the ones who manufacture some auto parts that can be an alternative of the same part from a brand's machine. In this case, you can be a seller to several brands or different automobile manufacturers, but with your tag on the auto parts. Here, you become a marketplace and your store model becomes majorly B2C.
Most businesses prefer Aftermarket as your auto parts would be inexpensive and they need not onboard you for the project always.
5. Identify your market
As seen above, your online store model can be of two types B2B and B2C
B2B: You can be selling auto parts to companies, retailers, technicians.
B2C: You can be selling auto parts to individual engineers for their projects, who love trying out new things.
Step 3: Setting up the online store
No matter you are developing your store yourself or have hired an expert, these are the basic requirements you must fulfill for a rocking auto parts online store:
Better User experience with a good loading speed.
Easy navigation throughout the store with common user interfaces.
Mobile friendly as most of the people prefer shopping on mobile phones.
Add a huge product list, as your customer may find the exact match they are looking for.
Try adding all the payment options with high security as this is the crucial and trust-building thing for you and your customers.
Now, there are special platforms helping businesses to go online at a very easy and reasonable expense. 
Magento
It's an eCommerce, you can set up your shop and fulfill all the bullets of the above-mentioned checklist. But it is a bit costlier when compared to Woocommerce and Shopify. 
Woocommerce
Woocommers is a similar platform to WordPress to make your website development journey hassle-free.
Shopify
One of the best platforms for eCommerce websites trending now is Shopify. You can blindly go with this for your online auto parts store.
Features
While developing the online store for your Auto parts Ecommerce website you need to take special note of the features to be installed as they majorly influence the buyer's decision:
Login
Product List
Product Info
Push notification
Order History
Global Shipping
Location Detection
Rating and Review
Offers & Discounts
Lingual Support
Search, Sort, Navigate, and filter
Social media Integrations
Help Desk and Customer Support
Easy Return and Cancellation
Marketing tools
Now that you have a long list of things you must know when developing an online store for auto parts do save it so that you do not miss out on anything. 
Hope you got, how to create an auto parts ecommerce store? Are you planning to hire Indian developer to develop an ecommerce store for your business? contact us today & get free quotation.