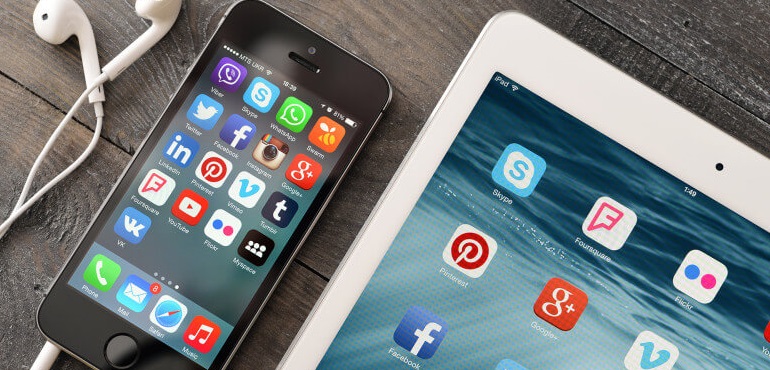 What Innovations are done or going on in the field of Mobile App Development?
The utilization of mobile applications has tremendously increased over the last several years. By ever increasing adoption of contemporary smartphones, there is a number of consumers who make use of apps with the purpose to order the food, perform banking transactions, book tickets, enjoy their favorite music, etc. Presently, the world is becoming digitalized, where the task of being in touch with colleagues, or friends present across boundaries is not a difficult task anymore. Gradually, the amount of mobile apps continues to rise, and it has simplified many tough tasks as well. Moreover, the rising demand for more efficient apps has too outcome in extensive interest in the field of mobile app development, particularly amongst autonomous as well as freelance developers.
Till now, there are already lots of innovations being done in the field of mobile app development, and also there are many which are yet to be observed in the near future. Let's have a look at them:
Cloud Technology finally finds its Place in Mobile App Development:
There is no surprise that right from the typical consumer to high-tech professionals everybody has been familiar regarding the advantages of cloud technology, and the ways in which it could to modify our shared lives. In the present era, cloud computing concept is not just swift, simple to deploy, and cheap; but it too creates a sound working argument for big-scale enterprises as well as minor enterprises.
It is known that the apps like OneDrive, Dropbox, and Google Drive are merely the tip of the iceberg, because in present year, the innovations in field of mobile app development are going on such that there would be release of powerful apps which can directly operate on the cloud as well as require the least space on your phone storage. In addition to that syncing data – which means that working on an app for the smartphone and later progressing it from a desktop or tablets would too get large acceptance.
Location-based Wi-Fi Services turned out to be a Commonplace:
Mobile location services, along with Beacon technology, are currently initiating to remove the line present between offline mode and online mode of advertising. The aspect is true in the retail division. The Company Apple had previously integrated this technology within iBeacon, as well as in the year 2016; it is known that Android has followed suit.
Moreover, in the coming years, Wi-Fi would be utilized for not just getting internet access, but also in different forms as many public hotspots will be seen to be double up in the form of location access points. On the other hand, app developers are too anticipated to follow suit, through developing mobile apps which seek the benefit of this kind of location-dependent Wi-Fi services.
Innovation in Developer Tools:
As mobile application industry introduces lots of applications each year, it is found that there is excess pressure on introducing mobile applications within the least time period and that too excluding error. It is also a fact that today businesses wish to get in on shaping applications in the least possible time. The innovation is such that the application programming interfaces, as well as software developer kits, let it handy to introduce applications in the least possible time. As the time passes, there would be a rise in such applications and many more advanced software kits as well.
Enterprise Mobile Applications Attain a New Lease of Life:
Now it is not at all a secret that there is a number of developers who are inclining towards the development of mobile enterprise apps. It is known that the reason behind this is that these apps, which let it simple to keep huge teams linked and which track key metrics as well as KPIs, are presently in need by nearly all minor and big business to a certain extent. Apart from that, enterprise app stores are too expected to transform as the next great thing, because with increased B2B interaction, a marvelous opportunity would be presented to new mobile app developers.
Innovation in terms of Application Security is Necessary:
With quick technological advancements created on a constant basis, it is found that mobile application security along with general smartphone security becomes a prime issue. At present, the majority of the topmost 100 apps included within the Google app store have by now been hacked. Besides, the overall picture is too not that good on the iOS part. Hence, with Microsoft, Google, and Apple elevating the stakes and creating security a huge target for the next certain years, mobile app developers to require to concentrate on matters of cybersecurity and deploy latest security features into their apps.
The increase of Demand of Mobile Security Apps in Future:
As smartphones gradually turn out to be more significant to the life of people and as the dependence of people on them rises for using bank applications and for using private data, there is a concern of mobile security. For enterprises, any type of breaches in terms of data privacy could actually cost the company fortunes; hence the mobile security apps would observe a great demand in next few years.
In-App Advertising and Purchasing Would Increase gradually:
The smartphone users using mobile apps to carry out routine tasks are growing, so the revenue produced from the in-app advertising as well as purchasing is too steadily rising. As per the recent figures, the in-app purchasing made from mobile devices reached roughly $9 billion in last year. In the subsequent years, it is suggested that mobile application development trends would simply transit away from simple banners and integrate advertisements within an amusing, non-detestable approach for the end-user.
IoT would Unlock New Possibilities:
IoT, which stands for the Internet of Things, is by now a $19 trillion industry, and in a matter of coming five years, higher than 5 billion individuals are anticipated to be implementing an IoT-based technology in one or the other form. In the present era, you can see that IoT exists in contemporary wearable technology, smart bulbs, smart thermostats, dimmable streetlights, etc. The rate of innovation is such that in the subsequent years, this technology would get swiftly adopted for mobile app development. It also allows more tailored user experiences over a range of devices.
New-gen Mobile Games Needs Innovation:
With development carried out in the sector of social connectivity as well as cloud technology, it is now the time mobile app developers to concentrate on the games which would come with enhanced multiplayer focus as compared to developing merely single player games.
Through creating new-generation games depended on the recent game engines, which implements simple access to cloud technology, mobile app developers can drive recurrent and swift updates to improve the UX.
The m-Commerce to become the Next Big Opportunity:
The way e-commerce giants like eBay and Amazon flourish, the utilization of m-Commerce based apps is too anticipated to rise in the next few years. With the increased number of smartphones making use of technology like Fingerprint recognition, NFC, etc., the use of a mobile phone for paying the transactions, would too get quick acceptance. Moreover, mobile app developers would too get the opportunity to develop an m-Commerce app which could offer extra functionality to the users.
Innovation in Development of enterprise apps:
There are two factors that actually account for the latest pitch of enterprise applications. Of them, one is they let it simpler than before for properly maintaining 24×7 communications with clienteles that are current as well as potential. Moreover, through the help of custom mobile applications for business, routine management works would transform much easy. An excellent example of enterprise app would be CRM mobile application which could drag up pertinent customer information swiftly and allow admittance to senior management concerning on real-time sales updates.
Innovations in IoT Applications:
Mobile application development is not just restricted to tablets or smartphones enhancement, but in the near future, mobile application technology would regulate and administer the gadgets and devices present around us. The tech object we are surrounded is not meant to leave in isolation anymore. Through the deployment of mobile application development intended for the Internet of Things, every object would get integrated into our routine life. Few instances of IoT are self-driving car developed by Google, Google glasses, and Apple's watch, and refrigerator that mentions your tweets, etc.
The trend of Cloud Computing Apps:
The Cloud computing apps' trend would perform a vital role in creating the future of mobile application development sector. It is found that Cloud storage apps permit a mobile app developer to design an app which could be executed on almost all smartphones, by use of the browser irrespective of screen size and platforms. In the field of cloud computing, an application executes with the similar functionality as that of the native app; however, it executes on the server and not on devices. There are many organizations that are insisting the use of cloud computing apps because of its easy and consistent usability.
Concluding Note:
Lots of innovation has already been carried out in the field of mobile app development. Still, as discussed above, the mentioned sectors are the one which requires innovation in respect to mobile app development to ease the life of people.