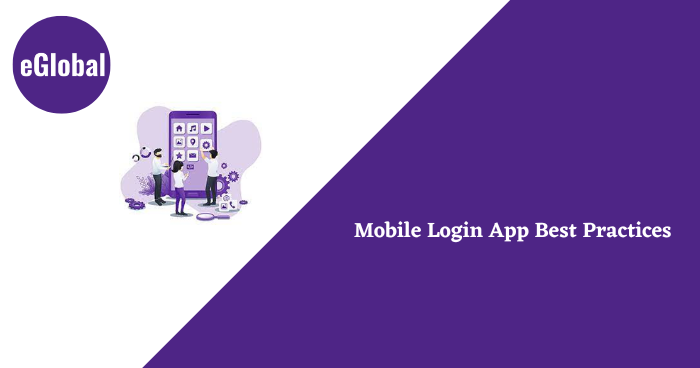 Designing a mobile app is a heck of a process. From designing the login interface to the home page it takes a lot of detailing to create a mobile app doesn't matter which OS you are creating it for. The better the interface is, the greater will be the viewer retention for the app.
If you create an app that is one of its kind in the terms of providing data to its user but they are unable to operate it because of a weak interface that is difficult to understand for them, all your efforts will go in vain and you will gain nothing out of it.
And to resolve this issue there are certain sectors that you need to work on to get your app going so that not only it is high in numbers in the terms of viewer retention to being equally useful too.
And the first step in creating a better interface for an app includes an easy-to-operate login page. Because this is where your app makes its first impression in front of the users, and if they are happy with the login page they will be looking forward to knowing what's inside the app.
Best practices for Mobile Login App
There are a couple of things that make your login app attractive as well as easy to use. The viewers always look for a simplistic login page where they don't need to waste much of their time and just with a few clicks they are being able to login into the app.
Why would your app have a good interface?
If you are not aware of the fact how can a good interface affect your app growth, here are a couple of reasons you should look up to –
Higher viewer retention rate
Customer Satisfaction
Brand Awareness
Growth in user interaction
The following are a couple of things that can improve the login page of an app –
1.    Simplistic Registration Procedure
This is the most important segment of the login interface. As mentioned above the simpler it will be for users to log in using their credentials, the better it leaves the first impression on them. Creating a new account is a lengthy process, and if your login page makes that process easier it shows how you understand the user's mind to help them login in just with a couple of clicks.
Remember that most people despise filling out forms and registering accounts. Go the additional mile by designing a procedure that is quick and takes advantage of the platform's features. Users will undoubtedly enjoy it, especially as it forms part of their initial impression of your software.
2.    Login using external accounts
Generally, users don't like spending time on the login page filling up details no matter how fast the procedure is, and for that logging in using external accounts acts as a game changer. You can log in to any app using any of your previously created social media accounts, for example logging in using a Google Play account or Apple ID is a go-to option these days.
Trying adding external links so that people with a single tap can log in to your app and all of your details are automatically entered. All they need to do is add their basic details and they are good to go.
3.    Going in for Gmails instead of Usernames
Aside from speed, reliability and safety are crucial considerations when designing a strong log-in page. These are tough to accomplish since it is difficult to put the terms "security" and "convenient" in the same phrase. One method for increasing security while keeping things simple for users is to have them log in with email addresses rather than usernames.
This method is beneficial because it acts as a medium of securance, and also it is easier to remember for the users. For example, if a user wants to re-login into the app, it is predictable that they might forget their usernames, but it is unlikely possible for them to forget the mail id which they used for logging in.
4.    Logged in feature
This is a crucial feature for any app that you design. The users must always be logged in to an app once they have finished filling up the login page at the beginning. You can add security features such as a pin or a pattern, or even give access to a fingerprint scanner or face unlock so that whenever users try to log in they need to pass through the security check.
This makes the app more secure because people won't be able to log in if they are unable to pass through the security process. Yes, it might happen that the user may forget the password as well, but just with a couple of steps and proving that they are the right person who is trying to log in, they can log in again and can even set up a new password that will be easier for them to remember.
So these were a couple of practices that can help you improve the login page of a mobile app and can help you gain a greater audience base. Just remember along with a fast and quick setup the app must be secure so that people can trust your app without any hesitation. Just create an interface that can help people understand how easy as well as exciting it is going to be for them to operate the app.
Hope this Article is beneficial for our readers, hire app developers India from leading mobile app development company India for your future projects.