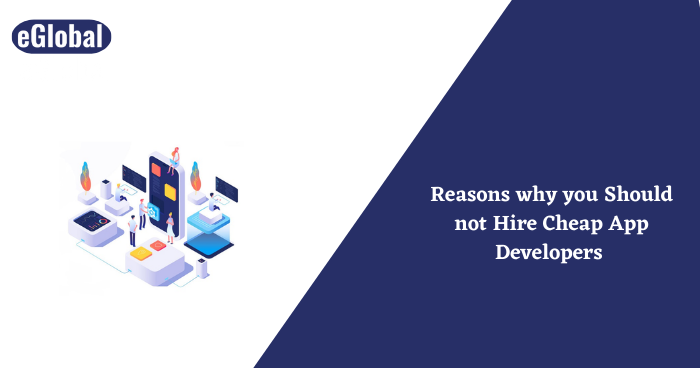 An app of a company is an important factor for the company. As the app market is too competitive though your app needs to stand out. While hiring an app developer, look at all the factors and then go ahead. The business strategies also depend on the data provided by the app. You can't just hire anyone, you need to look for someone who will assure you the best quality. A good app developer will cost you more but it's like a one-time investment, keep your budget high so you get the best. Some reasons why you should not hire cheap app developers.
1. Freelancer
Hiring a freelancer or not is the biggest question. You may feel that freelancers will be more affordable than hiring professionals. The risk of hiring a freelancer is much compared to hiring professionals. Freelancers' quality can't be assured which may cause problems in future. Coordinating with a freelancer is not easy as you need to schedule meetings according to their working hours. Some freelancers charge per hour which may be expensive so it's better to outsource the application development to an outsourcing company. If there is a lack of communication between the company and the freelancer it can affect the application. Before hiring a freelancer, check their portfolio so you know what types of apps they have developed and do that have the skill to develop the app the company wants.
2. Experience
When you're hiring a freelancer or any company just on how much experience they have. There are different types of apps, you need to know which type of app is their expertise. Their experience is really important for your company. Spending money on someone who has less experience won't give you the desired results. Less experience of the app developer can sacrifice the expertise and talent required to develop the app based on the expectations and requirements of the company. Expertise in a particular type of app development is also crucial. Sometimes with less experience and more expertise, you can get the best results.
3. Costing
Many times businesses look for app developers who are affordable but comprise experience and talent or quality. Over some time you may not get the outputs you want from your app. Cheap app developers will fit in your budget however the expertise required wouldn't be there. Pricing is an important aspect to consider but you need to take into consideration other factors too. If you just look at pricing and hire a cheap app developer other aspects of the app are sacrificed and it can affect your revenue.
4. Look around
While hiring an app developer just don't look in the city you live in. Increase the radius of your search. There are many companies you can hire which live in other cities or states or countries. If you limit your search you may miss out on some good outsourcing companies or experienced freelancers. The more options you have to choose on the best deal you can crack.
5. Reviews
Sometimes small businesses have a small budget so they tend to hire app developers with fewer reviews. The reviews of any company or freelancer can give you an idea about their reputation. The reputation of any company is an important aspect to take into consideration. The more good reviews the more you can rely on them and trust them. People do share a bad experience so you need to check reviews of companies or freelancers before hiring them.
6. Re-building expenses
If you have a budget constraint and you hire a cheap app developer but get bad reviews. If this happens then you need to rebuild your app which will cost you more. To avoid this rebuilding you need to hire professionals who can make the user experience better. If the user experience is less then you won't be able to attract customers. If your rebuilding expense costs more than making a new app, the money you invested goes to waste. Think before you hire anyone. The person having the talent won't cost you rebuilding expenses as it will be worth your money.
Consider these reasons before hiring a cheap app developer. This app represents your company so think about how much time, money and effort you need to invest. Low usability of the app will make the people surfing through the app frustrated and they may delete the app. These things will turn out to reduce the revenue generated by the app. Ask for preferences while considering an app developer, a known company is always better to hire. After hiring an app developer, discuss the mode of communication and deadlines. The work should be completed within the time frame as the deadlines should be covered. Think about all the aspects before hiring anyone.
Hope you got the reasons why you should not hire cheap app developer! Are you planning to hire best developer? contact us today & get free quotation.