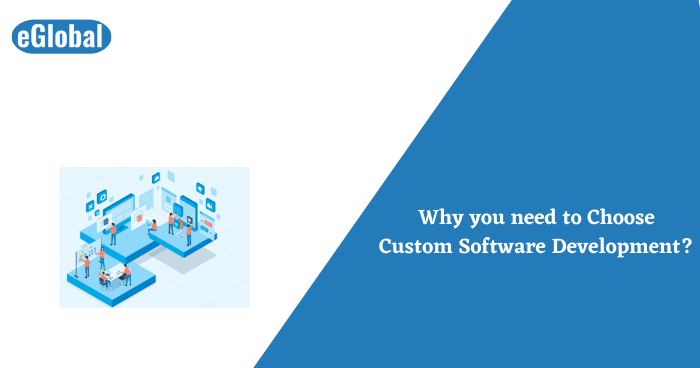 Let's have a look, why it is important for you to choose custom software development. The business environment is quickly taking a different rapid turn in almost every sector. Some of the crucial drivers to the rapid changes underlie a technological background. With the rapid changes, it is vital to understand that competition among companies and organizations becomes steeper. Therefore, thriving in such a competitive environment commands uniqueness and a proper understanding of businesses. The development field is in itself a crucial one, and it, too, has seen a rapid change in the approaches to software creation.
Custom software development provides a leeway into enjoying competitive software development even as more companies or organizations jostle to stay in place with the current technologies. In this piece, we shall explore an in-depth overview of custom software development and, more importantly, why you need it more than any other form of software development.  
Understanding custom software development
Custom software development entails design and development software with specific needs as per the client or organization. The requirements are specific to the market of operation of the software. Therefore, a more straightforward approach to understanding custom software development is to consider it a form of software development specific to a particular organization's needs. The demand for specificity among organizations provides a ground for custom software development. Therefore, a custom software development company will always chip in when an organization needs to solve particular problems.
The Advantages of Custom Software Development
Is there any key reason why you should consider custom software development? Probably, yes. Even though most companies will require custom software development, it is also crucial to assess a proper ground to land anyone on the choice. Choosing custom software development could be problematic because, to some extent, an appropriate analysis of the initial development costs is quite essential. Therefore, anyone who's had a previous consideration of custom software development will agree with the fact that it might cost enough. Regardless, it comes with a range of benefits you need not miss. Some of the advantages associated with custom software development include:
The tailoring of the custom software specific to your business
There is always uniqueness in every organization. Regardless of the kind of software you want to build, it is essential to always opt for a critical permanent solution to your specific business issues. Going for unique solutions will always help any business maneuver properly in a competitive business environment. Therefore, custom software development always considers matching unique solutions to specific business objectives in a competitive environment. Providing unique business solutions to unique business problems is an excellent advantage for the entire business.
Proper integration of custom software with the existing software
Software development approaches have taken a different advanced course to develop software and incorporate them into other software. However, it is crucial to understand that making integrations is not a bed of roses. One of the fundamental reasons why integrating software into existing systems can be difficult is the availability of limited application programming interfaces, which delays development and consistent bugs in software systems. More of such issues give birth to inconsistency in the methods and downtimes. However, we can always provide a solution to the challenge through custom software development. Through it, integrations are pretty straightforward, and therefore linking up a new software into an existing business system is flawless with no impact on productivity. It is also essential to note that custom software development enhances and improves the current system processes. 
There is proper scalability with custom software
Scalability is a crucial issue when dealing with any software. Therefore, since many organizations centeron growth and expansion with the ever-changing business demands, you should consider custom software development that provides scalability. Custom software development meets your business need and can even work hand in hand with the existing software. At times, the current software system might serve better for any given organization. Even as such organizations enjoy the benefits of the existing software solution, it is essential to think extensively about achieving the business's future needs. The current software cannot easily make a shift in cases of future changing needs. Therefore, it is essential to consider custom software development that moves with the organization's changing needs. Thus, through it, the business worries least about the possible changes that could affect the entire industry in one way or the other.
Great reliability
Another key advantage associated with custom software development is the reliability aspect. Therefore, it is undeniably true that such an approach to development is an ultimate cultivator of steady business relations. For instance, considering a purchase on a given solution will always link you to that business somehow. It is, therefore, through it that your relations with the firm will commence. Going for a custom solution means that you'll have control over the company's software with no limitations from outside authorities. Therefore, with custom software, the decision on usage, development, updates, and changes depends on you.
Provision of a better ROI over time
The use of custom software assures proper provision of ROI over time. Existing software will always bring comfortability into the operation of the business. However, the company will most definitely incur enough costs with premade software solutions,even reducing profits. On the other side, custom software development has little or no costs to incur.  With already made software, there is an excellent likelihood that you will enjoy affordability. However, the ongoing costs of using software or a system that is not under your management will always give you sleepless nights. The price and expenditures paid for such a system or software are pretty expensive compared to custom-made software.
Some of the challenges common with the unavailability of personal software under personal management include low productivity, costlier integrations, and high licensing costs that will always have a massive impact on the business. Considering software that you understand and manage by yourself is always essential because it helps save a lot of money. With custom-made solutions, it is easier to attain business productivity and efficiency.
Custom software supports excellent business insights and more data
Custom software boasts a wide range of advantages in matters of data management and insights. Although there is the availability of software solutions to handle data and every aspect associated with it, it is crucial to understand the custom-made software goes an extra mile of giving out data provisions that are exact or specific to what the organization wants. A non-custom software will always provide similar features, but it may produce data that may not be necessary to the organization. Therefore, the best approach is to tailor your software solution to a range of business activities within your organization to enjoy practical data analysis and interpretation and provide reliable and substantial insights to the organization.  
Custom Software is for the business
Another crucial reason you should consider custom software development is that the developed software will always be under the ownership of the business. Therefore, every operation, functionality, feature, growth, and even data rests within the organization's management. With this, the company will enjoy privacy. Therefore, there would be minor worries about the security of the business.
Faster adoption
With the implementation of custom software development, most businesses have seen more significant improvements in fixing links between business solutions and features. Therefore, the adoption rate of business regarding this mode of software development is high. More importantly, training newbies on the usage and working of the developed custom software is easy and consumes less time and cost. Software solutions are achievable by observing the entire structure and functionality of the business so that there are no negative interruptions during integrations.
Support and Maintenance
A key consideration when developing software lies in maintenance. With the custom approach to software development, support and care are more manageable and achievable because the business will establish potential risks, issues, and maintenance strategies for the software.
Conclusion
Most companies and organizations have a great adaptation to custom software development. They opt for custom software development with the benefits of such a mode of software development regardless of the few challenges. From an in-depth view of this approach to development, you will realize that the few challenges that emerge during and after development take less time on matters of fixation. An organization that relies on software managed by other companies or service providers will permanentlylose freedom in controlling the software. For instance, the software service provider can discontinue services, which might interrupt the entire business.
Therefore, most companies must consider creating custom solutions to enjoy freedom over their software. It frees a company or organization from a service provider's rules, among other vast advantages.  Therefore, in your next venture of developing software for your business or company, you should always strive to weigh the advantages that come with different approaches to software development. The approach with more tremendous advantages should always be the best for you.
Hope this article is helpful for you to understand the necessity of choosing custom software development. planning to hire developer! contact us.